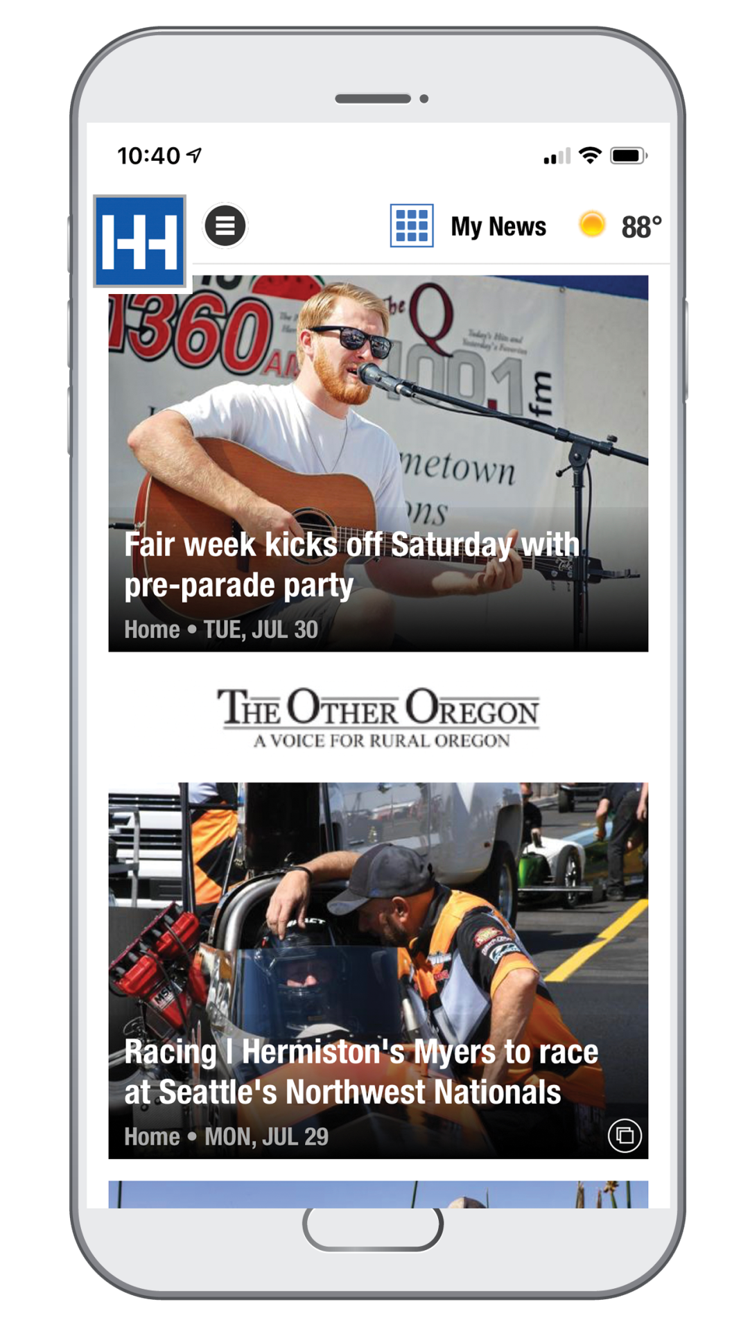 Get breaking news!
If the city of Hermiston follows through with the sale of the Hermiston Community Center, then Bryan Wolfe and Tim Mabry need to dust off their donation list and see that the city return that …
When I came to Hermiston as superintendent of schools in 1991, we had about 3,500 students in six schools. Today, 28 years later, we have almost 6,000 students in seven schools. Though some re…
Hermiston has the opportunity in November to again invest in its young people who are our future.
Hermiston is a "can do" community. Residents know the value of a good education, and that an investment in schools today will pay off for years to come.
Hermiston has the opportunity in November to yet again invest in its young people and its future.
Schools are the heart of our community.
Hermiston's growth is not an accident. Its location, weather, culture and even soil have created an environment ripe for development. Careful planning has made way for sustained expansion.
Warm Springs needs our help
Hermiston a patriotic town
We recommend voting for everyone on your ballot that has filed for the position they wish to hold. Following is our recommendation where there are two or more candidates for the same position.
A century ago, any brazen leaders who had the audacity to raise fees a whopping 50 percent would have been tarred, feathered, and run out of town on a rail. So imagine our shock when we opened…
I would like to express my gratitude and sincere appreciation to the Hermiston School District for their commitment to continuing a reading tradition that began at Highland Hills Elementary in…
As a board member of The Arc of Umatilla County I would like to express my sincere appreciation to the five members of the ALMS Kindness Club who came out on February 16th to support The Arc's…
I am disappointed that the city of Hermiston chose to build a skate park instead of a covered swimming pool. I think the latter would serve a much greater population than the former.
Wal-Mart Distribution Center in Hermiston has been very helpful over the years with in-kind and grant funds contributions to the efforts of the Echo Kiwanis. Recently, Kiwanis held their month…
I really care about Hermiston and the surrounding communities. I am truly fortunate to be part of the city government in Hermiston. It is an honor to be re-elected to serve a third term as cit…
A sincere thank you to the gentleman who contacted several businesses in Hermiston to sponsor the concert on Nov. 3, 2018, "A Toast to Bread!" An extremely talented, professional group of musicians.
We have the opportunity to vote for Representative Greg Walden, sending him back to Congress to continue to represent us through these continuing challenging times. We need his hard-working, e…
I voted for George as commissioner in the last race, but will not vote for him this time. You see, I received a flier yesterday from the Re-Elect George campaign, and I say it lacks of integri…
Our current Congressional representative, Greg Walden holds significant power in Congress. But he uses that power to further the interests of out-of-state corporate donors over the wellbeing o…
I am writing this letter to you in support of Jamie McLeod-Skinner for Congress.
I would like to recommend a vote for city councilwoman Lori Davis in the November election. She is a longtime resident and a friend of mine. Lori is known to be truthful and reliable. She's an…
This county election is an easy choice.
Just a point of clarification on your six-man football article ("Six-man football debuts," Sept. 6).1948 was not the last year the sport was played in Oregon. I played for the state championsh…
A big hats off to ACE Hardware.
Ryan Wesley Bounds' nomination to the U.S. Ninth Circuit Court of Appeals was approved by the Senate Judiciary Committee on June 7. Lady Justice, with her blindfold and scales of justice, smiled.
I am proud to say that Starbucks in Hermiston deserves a big applause for how they treat our homeless!
It's a shame a handful of individuals rewrote Hermiston High School history by altering the 2018 commencement.
On behalf of the clients of the Agape House, I want to extend our great thanks to the Hermiston postal carriers and the people of the Hermiston area for the great results of the postal carrier…
While traveling last October, at Biggs Junction we discovered to our horror that our dog, Vinnie, was missing. We thought he must have gotten out at the rest stop at Boardman. As it turned out…
Vision comes with many different definitions, but the constant is it is never stationary. Umatilla County Commissioner George Murdock has, during his term as Umatilla County Commissioner, been…
I urge the voters of Umatilla County to re-elect Larry Givens as our county commissioner. He has been a hard-working, hands-on commissioner who has devoted countless hours to help move Umatill…
I've heard that one of the judicial candidates for Umatilla and Morrow Counties has suggested that he is better qualified to be judge because of the large number of court appearances he's made…
I support Larry Givens in his race for Umatilla County Commissioner. Although I do not know his opponent, I just can't see the case for making a change. Larry has been a conscientious and hard…
I am writing in support of Rob Collins to be our next circuit court judge. I believe that he has the right combination of broad legal experience, judicial temperament and community involvement…
I am writing to support Larry Given's re-election as Umatilla County Commissioner. Larry has worked tirelessly on behalf of the citizens of this county, and deserves our continued support. He …
Notice to hundreds of people, your jobs are gone. Headline: "Processing plant closures on the rise." Little warning — two days? Tight cattle supply.
This letter is in reference to the race for Circuit Court Judge and my support of Rob Collins for that position.