A lot comes to my mind as we all struggle to come to terms with the current situation regarding COVID-19.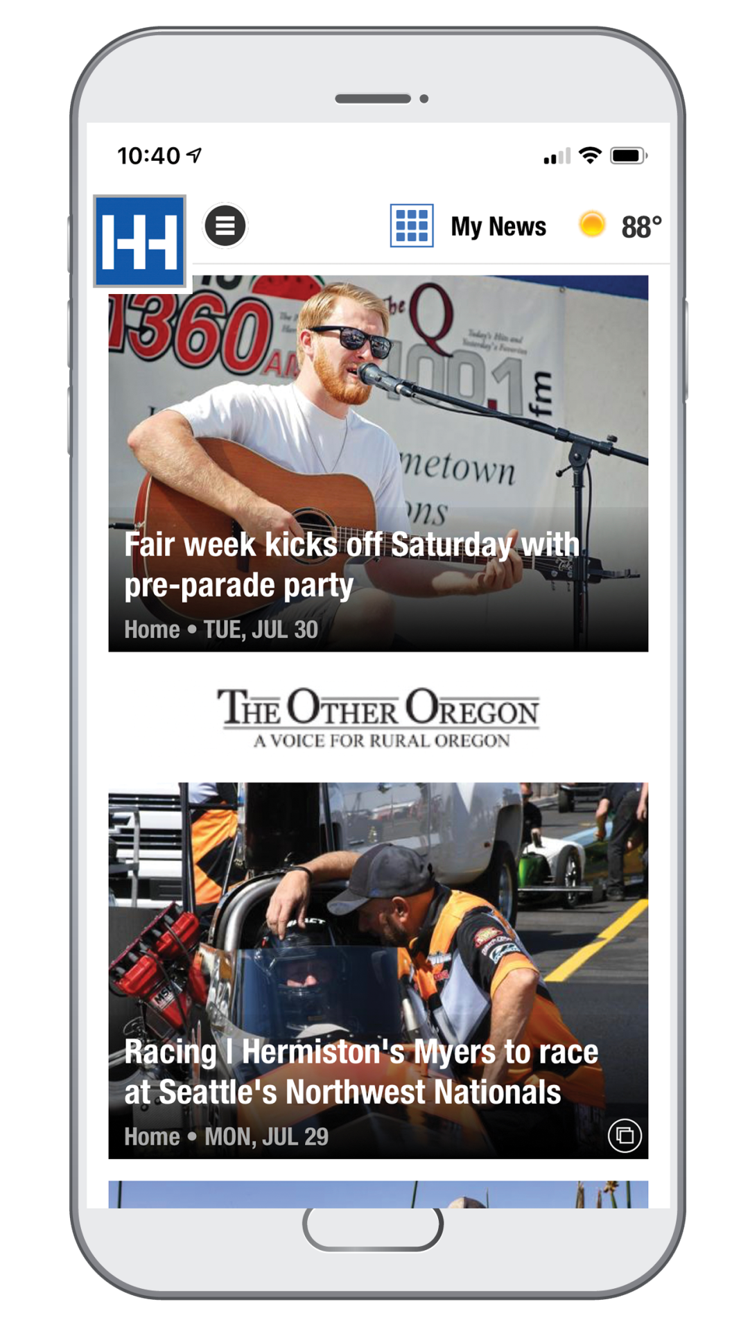 Get breaking news!
These past few weeks have been bewildering. Tiring. Worrying. I'm sure you can think of plenty of other adjectives.
The people-powered candidate: The Oregon Secretary of State serves all of Oregon's 36 counties as chief auditor, administrator, and elections officer. Jamie McLeod-Skinner is the only candidat…
So, the coronavirus is here.
While driving along Highway 395, my partner and I noticed something different about Hermiston's welcome sign recently. For one, it's adorned with a brightly colored watermelon, and I am all ab…
When a natural disaster the size of last week's flood hits, the information comes flooding in as fast as the water.
I recently read a Discover magazine story that indicated a lifespan is a billion heartbeats.
It's no secret that my Democratic colleagues in the state Senate want to pass a cap-and-trade bill this year (SB 1530). They tried last year with HB 2020, but were unsuccessful. They've been w…
The past decade brought us many wonderful things, from life-changing advances in technology and medicine to worldwide decreases in poverty and illiteracy.
The 12/18/19 issue of the Hermiston Herald had an article discussing our poverty level estimates and how it effected the Title V Rural and Low Income Schools grant for the Hermiston School Dis…
Question: Given the current time of the year, with icy roads and sidewalks, I shovel my sidewalks every time it snows. I do the same for my two elderly neighbors. So my question is, "Is a home…
Editor's note: This is the first answer in our new "Ask a Lawyer" column series with Hermiston attorney Blaine Clooten of Clooten Law. To submit questions for future columns, email editor@herm…
A Facebook post by a former college roommate of mine gave me a little laugh recently.
I have a confession to make — I'm already full steam ahead with the Christmas spirit.
When I was in college, I stopped liking Thanksgiving.
It's a humbling experience to be entrusted with nearly $90 million to build new schools for a generation of Hermiston students. The Hermiston School District is grateful to this community for …
When a local business announces they are closing their doors for good, the announcement is often greeted with a flood of comments from people sad that it is closing.
A bit of an adrenaline junkie, I like things that get my heart pumping — including scary stories and even ghost hunting. A couple of recent trips with friends have featured things that go bump…
If the city of Hermiston follows through with the sale of the Hermiston Community Center, then Bryan Wolfe and Tim Mabry need to dust off their donation list and see that the city return that …
When I came to Hermiston as superintendent of schools in 1991, we had about 3,500 students in six schools. Today, 28 years later, we have almost 6,000 students in seven schools. Though some re…
Hermiston has the opportunity in November to again invest in its young people who are our future.
Hermiston is a "can do" community. Residents know the value of a good education, and that an investment in schools today will pay off for years to come.
As I approached college graduation, my goal was to eventually become a boss with my own office where I could hang posters on the ceiling.
Hermiston has the opportunity in November to yet again invest in its young people and its future.
For the past 17 years, it has been my honor and privilege to lead Eastern Oregon Mission and its two outreaches Agape House and Martha's House. It is now time for me to turn over the reins and…
Every school year in Hermiston begins with the promise of new opportunities for our students and staff. New friendships are formed, new experiences pursued, and we set out to learn new ways to…
Schools are the heart of our community.
Everybody seems to have an opossum story. My favorite is we thought it was an ugly cat until we tried to put a flea collar on it.
Recent road construction has altered my preferred route to work.
Hermiston's growth is not an accident. Its location, weather, culture and even soil have created an environment ripe for development. Careful planning has made way for sustained expansion.
When I was a kid, my parents' unfinished basement held dozens of milk jugs filled with water and shelves of large silver cans with words like "rice" and "oats" written across the side in black…
It's that time of year again.
Warm Springs needs our help
It seems like it was only a few days ago that we were wrapping up the spring sports season and crowning state champions in track, baseball, softball, golf and tennis.
As National Dog Day approaches I would be in the doghouse if I didn't brag on our canine kids — both German shepherds.
Less than three months ago, I was fresh from college and spending my days pouring lattes at a fast-paced coffee shop in downtown Portland. Next door to a nice hotel, fielding tourists at work …
Hermiston a patriotic town
Several weeks ago I thought I had a sudden windfall of $30,000.
After turning the tassel, area graduates are looking to the future and what's next — joining the workforce, entering the military or going to college.