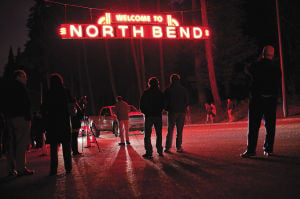 NORTH BEND -- One of the Bay Area's most prominent landmarks, the "Welcome to North Bend" sign, will be pushed out of the way to make room for a traffic signal directing increased traffic from a nearby workforce housing camp during Jordan Cove's construction.
The North Bend City Council discussed the proposal to move the sign during a work session Monday night. Councilor Howard Graham said the councilors are not happy.
This traffic signal is an Oregon Department of Transportation condition within the conditional use permit application to site the housing camp on the Al Peirce property under the McCullough Bridge, said David Evans and Associates transportation engineer Josh Anderson.
The "Welcome to North Bend" sign will have to move if crews need to install a temporary traffic light at Ferry Road and U.S. Highway 101. The North Bend City Council heard a few options at its work session Monday night.
Since the North Bend planning commission already approved that permit this spring, the traffic signal is a "go" unless the Oregon Land Use Board of Appeals sides with Simpson Heights residents who oppose the decision.
The city of North Bend hosted a town hall last month to try to dissuade Simpson Heights residents' concerns about the proposed 2,100-person housing camp, which would sit less than a mile from their neighborhood.
At the time, Anderson assured them that eight years of analysis had resulted in a slick transportation plan that would minimally impact the nearby neighborhood.
Now, Graham isn't so sure. He hopes ODOT "will bend to pressure."
The council is now considering three locations the sign could move: on either side of Pittum Loop's intersection with U.S. Highway 101 or farther south where the highway intersects with Simpson Avenue. It currently hangs at the highway's intersection with Ferry Road.
Anderson's announcement that a temporary traffic signal would be installed at Ferry Road and 101 elicited groans from the crowd last month.
He said there will only be a 40- to 50-second delay during peak commute, which is defined as 7-8 a.m. and 4-6 p.m.
"The biggest drawback, however, is if you stop loaded trucks at the base of (McCullough) Bridge, it's going to take them forever to get up to the top and it will impede the flow of traffic, especially when they're starting out from a dead stop," Graham said.
Anderson said 101 could be widened at that intersection to install a left turn bay, giving workers access to Chappell Parkway to lead down to the housing camp while minimally disrupting the flow of traffic on the highway.
Simpson Heights has three entry points: Ferry Road, Simpson Avenue, and McDaniel Street on the south.
Turning onto 101 southbound from Ferry Road is already a headache without the added traffic from the housing camp. Graham worries drivers' frustration waiting at that intersection would force them to drive through the Simpson Heights neighborhood to get out at either Simpson or McDaniel.
"We're going to really have a lot of irate Simpson Heights people," he said.
Currently, Pittum Loop is a one-way street that runs under the bridge, then south until it exits onto 101.
"Most of the council, I believe, is running to make Pittum Loop two-way," Graham said. "If we can't make it two-way, then we'll make it one-way going the opposite direction so after (Jordan Cove construction workers) come off the bridge, they'll take a right turn to make their way to the industrial park below."
David Evans' analysis does not include improvements to Pittum Loop.