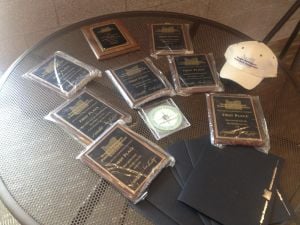 SALEM -- The World took home 15 awards Thursday night in the Oregon Newspaper Publishers Association's 2014 Better Newspaper Contest. The ONPA presented the awards at the organization's Summer Publishers and Ad Directors Convention at the Salem Convention Center.
Among daily newspapers with less than 10,000 circulation, The World garnered third place in general excellence. First and second places in the under 10,000 circulation category went to the Corvallis Gazette-Times and the (Pendleton) East Oregonian, respectively.
"I'm incredibly proud of our news team," World publisher Jeff Precourt said. "Day after day they produce a fantastic product for our readers and it's exciting to see this confirmed through recognition at a statewide level."
The World's newsroom won 14 other individual and staff awards in 13 categories. Notably, reporter Thomas Moriarty and photographer Alysha Beck's coverage of the bombing at the Coos Bay Prayer Chapel won first place in Best Online Coverage of Breaking News, beating out both The Oregonian and the (Medford) Mail Tribune.
"This is just further validation, for me, of how excellent our entire news team is," executive editor Larry Campbell said. "We get validation of our work in so many intangible ways, like someone calling to thank us for keeping the horoscopes coming, or thanking us for the photo of their kid and his baseball team. Those are nice pats on the back, and we love to hear them.
"These awards are the tangible validation."
"Our cross to bear": The World's coverage of the Mingus Park memorial controversy
Other awards included:
The World is one of three daily newspapers in Oregon operated by Lee Enterprises, including the Corvallis Gazette-Times, which took home 11 awards and the Albany Democrat-Herald, which won six awards. The World also publishes two weekly newspapers: The Umpqua Post in Reedsport and the Bandon Western World.