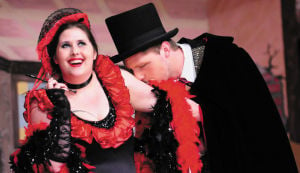 The South Coast supports several community theater groups. Little Theatre on the Bay (established in 1948) in North Bend, the Dolphin Players (established in 1979) in Coos Bay, Sawdust Theatre (established in 1966) in Coquille, Bandon Playhouse (established in 1976), Ellensburg Theater Company in Gold Beach, and Brookings Harbor Community Theater all delight their communities.
Other theater groups may mount more serious productions, but Sawdust Theatre represents the biggest undertaking. Every Friday and Saturday from Memorial Day to Labor Day, the Sawdust Theatre puts on an 1890s-style melodrama. The audience is encouraged to hiss the villain, cheer the hero and "Ahhh" the heroine during an extravagantly silly play.
Each year's play is created by local writers, incorporating local history and current in-jokes. In addition to the melodrama, "olio" performers cavort on stage between the acts, dancers perform the can-can, and the audience participates in a sing-along before the show. Two complete casts alternate performances.
Counting actors and support personnel, more than 1,400 people have participated in Sawdust Theatre in the past 48 years. A 1994 fire destroyed the troupe's original home, the Roxy Theatre, and all its costumes and props, but the theater moved to its current location in 2000.