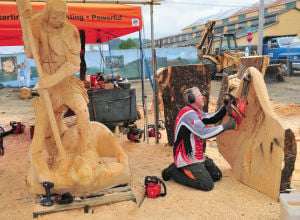 Since 2000, Reedsport has hosted the Oregon Divisional Chainsaw Sculpting Championships every Father's Day weekend. The Reedsport/Winchester Bay Chamber of Commerce pitches in to sponsor the event, which in 2014 drew 45 pro and semipro carvers and thousands of spectators.
Spectators love the "quick-carve" part of the program, but serious carvers put many hours into their pieces, finishing them with a variety of hand and power tools. Carvers use saws with narrow bars that can be plunged into the wood without kicking back. On the west coast of North America, carvers commonly use Sitka spruce, western red cedar and redwood for their creations.
Although chainsaw carving was first documented in the 1950s, it has gained in popularity since the advent of the Internet, where would-be sculptors can learn from online demonstrations and share photos of their work. Today, carvers gather for international competitions, with Japan, Germany, Russia and the Scandinavian countries sending many entrants.
One notable carver on Oregon's South Coast is Chris Foltz, of North Bend, an instructor at Oregon Coast Culinary Institute, who was already a champion ice carver before he ever put chainsaw to wood. He teaches ice carving at the institute, and he and his students consistently place high in ice carving competitions.