Oregonians are slowing the spread of the novel coronavirus, state officials announced Wednesday.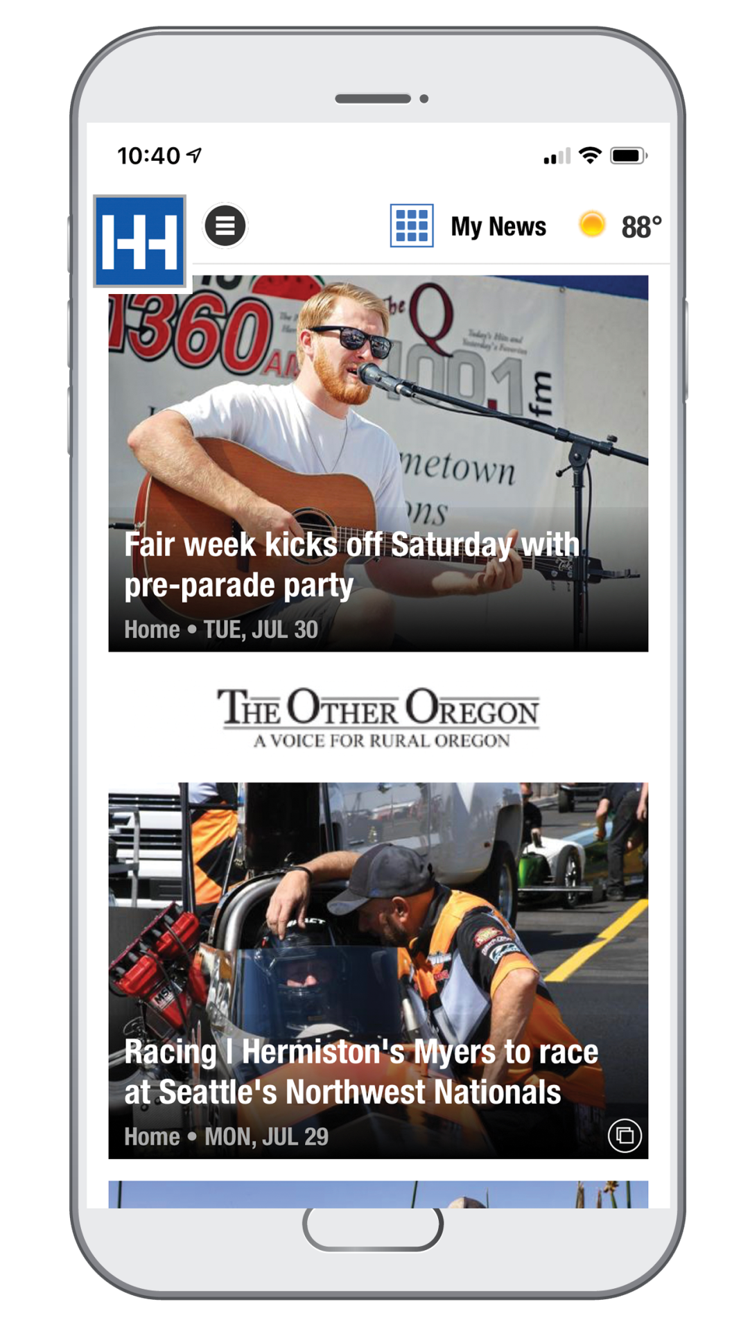 Get breaking news!
SALEM — Oregonians can now pump their own gas across the state after the Oregon State Fire Marshal suspended self-service regulations and implemented additional health and safety guidelines fo…
The Oregon Health Authority reported on Friday that the state's total number of positive COVID-19 tests jumped by 98, to a total of 414 known cases in the state.
SALEM — Oregon officials will begin releasing more data about the march of the coronavirus pandemic.
SALEM — Oregonians will have until July 15 to file their personal income taxes with the state, Gov. Kate Brown said Wednesday.
SALEM — Oregon Gov. Kate Brown is working on a multipronged mandate to slow the spread of coronavirus, but she is not expected to issue the full-fledged "stay-at-home" order that Portland-area…
With schools closed now through April 28, and colleges and universities told to move online to teach, educators and students across Oregon are facing a mass disruption in learning the state ha…
SALEM — The Oregon Association of Hospitals and Health Systems has called on Gov. Kate Brown to issue a shelter-in-place order requiring most businesses to close and require Oregonians to hunk…
SALEM — Health care providers in Oregon are running out of protective masks, surgical gowns and other personal protective equipment that protects them from contracting the coronavirus.
SALEM — Oregon's capacity to test for COVID-19 is beginning to ramp up.
SALEM — A team of Oregon's top government and business leaders are looking at every state program and agency to confront the economic erosion created by the outbreak of COVID-19.
LA GRANDE — Eastern Oregon University is moving all on-campus classes to remote access for the spring term. 
SALEM — As Gov. Kate Brown ramps up efforts to slow the spread of coronavirus, she worries about how her message is being received in rural Oregon.
SALEM — Health authorities are preparing Oregon's 62 hospitals for an expected surge in patients infected with the novel coronavirus, encouraging a stop to elective surgery, arranging for addi…
PORTLAND — Oregon needs to change unemployment insurance in response to the outbreak of the new coronavirus, according to the Oregon Center for Public Policy.
Oregon Gov. Kate Brown announced Monday she is closing the state's bars and restaurants and banning gatherings of more than 25 people, in the latest set of drastic actions meant to curb the sp…
The Oregon Health Authority announced the state's first COVID-19 fatality Saturday night.
SALEM — Gov. Kate Brown's warning Thursday that Oregon should be prepared for thousands of coronavirus cases put an exclamation point on the challenge facing the state's health care system.
SALEM — From playgrounds to prisons, Oregon is facing ever-expanding steps to get ahead of the novel coronavirus that state officials estimate could infect 75,000 people in a matter of weeks.
Oregon Gov. Kate Brown said Thursday morning that the state should be prepared for thousands of cases of COVID-19 as coronavirus continues to spread throughout the state.
SALEM — State officials on Tuesday mandated a stop to visits to the 30,000 Oregonians in long-term care facilities to prevent the spread of the novel coronavirus that has proven especially dea…
SALEM — Gov. Kate Brown signed a sweeping executive order on Tuesday that directs state government to significantly cut greenhouse emissions in Oregon.
SALEM — Following a feeble end to Oregon's 2020 Legislative Session, members of the legislative emergency board convened on Monday morning to allocate funding for emergencies throughout the state. 
Governor Kate Brown signed an executive order Sunday morning declaring a state of emergency in Oregon to address the spread of COVID-19 in the state.
SALEM — While new infection cases emerge in Oregon, state officials say they need an additional $1.5 million to trace contacts of those found infected with the novel coronavirus and more staff…
SALEM — In an extraordinary move, Democratic legislators on Thursday effectively ended the contentious and gridlocked 2020 Legislature, killing key legislation and taking with it the hotly deb…
SALEM — School kids still visited, their eyes drifting up toward the larger-than-life murals of settlers and farmers.
SALEM — Two Eastern Oregon lawmakers remain perplexed over the Democrats refusal to allow the voters to decide the fate of controversial climate legislation. The majority party's political cal…
PENDLETON — Cap and trade had already become the most contentious issue for the second year in a row, but at least on Feb. 4, the Oregon Senate was still in Salem to debate it.
SALEM — Republican legislators on Tuesday put the brakes on the Oregon Legislature, and Rep. Greg Smith, R-Heppner, paid a price for it.
SALEM — A contentious proposal to reduce the state's greenhouse gas emissions dominated political chatter in the weeks before the 2020 legislative session began. So much so, that observers exp…
SALEM — Sen. Bill Hansell made it official Thursday morning.
Flat milk production in the U.S. has boosted prices.
SALEM — When Oregon residents update their addresses with the Department of Motor Vehicles, they will no longer be required to apply a sticker on their driver's license, permit or ID card as o…
SALEM — As the number of Oregon voters unaffiliated with a political party rises, so has the number of voters locked out a key part of the electoral process. Oregon's third-largest political p…
PENDLETON — Christmas tree permits for the Umatilla National Forest are now available to purchase at forest offices, several local businesses and online.
SALEM — Oregon's largest public employee unions have seen double-digit declines in the number of state workers paying dues, state data show.
SALEM — A political fight over how Oregon manages its forests and timber activity could resolved by voters next fall.
Idaho shivered through its coldest October on record, while Washington weathered its second-coldest October and the coolest in more than a century, according to the National Oceanic and Atmosp…
SALEM — Finding a director to run a key new division of the Oregon Health Authority vexed Pat Allen for months.
PENDLETON — The U.S. Senate's 2020 appropriation bill approved last week includes benefits for Eastern Oregonians, from increased wildfire spending to expanded barge service on the Columbia River.
A Seattle attorney believes his Whooshh salmon cannon can move salmon upriver over dams far faster, cheaper and with less mortality than fish ladders or trucking. It could restore migration pa…
ONTARIO — Oregon state Sen. Cliff Bentz, R-Ontario, announced Tuesday that he's running for the seat in Congress being vacated by retiring Republican Rep. Greg Walden.
HOOD RIVER, OR – Today, Greg Walden (R-Hood River) announced that he will not seek a new term in Congress in the 2020 elections.
Gov. Kate Brown selected Marty Myers, of Threemile Canyon Farms, to serve a second four-year term on the board, which makes policy recommendations for the Oregon Department of Agriculture.
PENDLETON — As Oregon workers celebrated Labor Day on Monday, they were enjoying a day off in a state considered one of the best in the country for employees.
UMATILLA COUNTY — Billions of dollars in new federal funding for bridge repair could translate into benefits for Umatilla County.
SALEM — Oregonians signed up for individual or small group health plans got some good news this week when the state announced their final rate decision will lower premiums in 2020 by $44 million.
The Pacific Ocean along the equator cooled in June and is expected to be at normal temperatures in a month or two, the National Oceanic and Atmospheric Administration reported Thursday.
Easterday Farms, based in Pasco, Wash., has purchased the former Lost Valley Farm dairy and intends to reopen the facility with 28,300 total cattle.
As hundreds of new laws come out of each session of the Oregon Legislature it can be hard to keep track of them all. While many don't have a direct impact on Oregonians' day to day lives, here…
SALEM — The 2019 legislative session came to a turbulent conclusion as Republican senators returned from a nine-day walkout over cap and trade, but the drama overshadowed the hundreds of less-…
SALEM — The Oregon FFA, an agricultural education and leadership organization, will receive funding from the state this biennium for the first time in eight years.
Fine fuels increasingly fire-ready
SALEM — Rep. Greg Smith, R-Heppner, was appointed by Speaker of the House Tina Kotek to serve on a number of committees during the 80th Legislative Assembly, including as co-vice chairman of t…