UMATILLA COUNTY — As businesses scramble to make as many services as possible available online, Lifeways is no exception.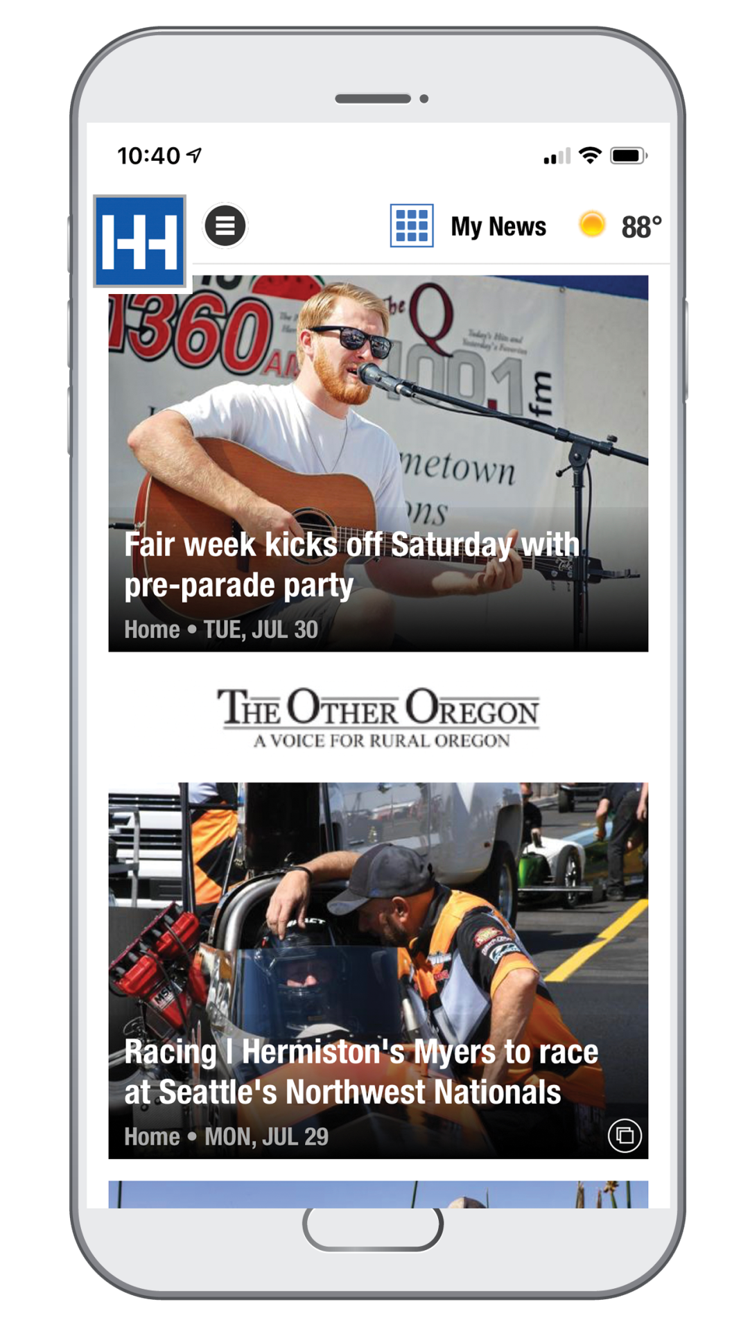 Get breaking news!
HERMISTON — As the list of things Oregonians can still do while preventing the spread of COVID-19 shrinks, gardening could be a good way to safely spend time out of the house.
Hermiston School District is offering up Chromebooks for students to check out if they do not have a device that allows them to access online learning at home.
ATHENA — Kenzie Hansell has been farming wheat for Farmers Ending Hunger since the nonprofit's inception in 2004, but this year he'll be doubling his efforts.
HERMISTON — Hermiston School District still intends to start construction of its new schools this fall, despite the economic blow to the country dealt by COVID-19.
PENDLETON — With most recreational areas being shut down by Gov. Kate Brown earlier this week, golf is pretty much the only activity that people can enjoy while following social distancing.
UMATILLA COUNTY — After an unofficial request for Oregonians to stay home led to potentially dangerous crowds filling the state's beaches and parks over the weekend, Gov. Kate Brown issued an …
PENDLETON — If Oregon's K-12 students return to school April 29, they will have lost a month and a half's worth of instruction time. Those lost hours are especially critical to high school sen…
SALEM — EO Media Group, the parent company of the East Oregonian and 12 other newspapers across Oregon, announced on Wednesday that it is reducing its workforce by 47 employees, according to a…
UMATILLA COUNTY — The Umatilla County Health Department announced a new confirmed case of COVID-19 in the county Wednesday afternoon, but did not give any information about where in the county…
Title I assistant for the Hermiston School District
The line around G&J Dairy Freeze in Umatilla on Tuesday was more than 20 people long. The patrons were waiting to pick up their lunches that were courtesy of the city during its first Tast…
In order to encourage social distancing, the Hermiston Herald has closed our offices to walk-in traffic for the foreseeable future.
Veterans of Foreign War Desert Post #4750 is stepping up to help with an American Red Cross blood drive that was canceled because of the closure of Stafford Hansell Government Center in Hermiston.
There was barely anything on the Hermiston City Council agenda on Monday night, but an audience of more than 50 people showed up anyway.
The Me and My Prince Ball committee recently announced a new partnership with United Way of the Blue Mountains.
The Hermiston Lions Club is accepting scholarship applications from high school seniors from Echo, Stanfield, Umatilla, Hermiston, Irrigon, Boardman and Ione.
HERMISTON — As an increasing number of Americans lose their jobs to COVID-19 shutdowns, Walmart is hiring more associates to keep up with demand and giving temporary raises.
Good Shepherd Health Care System in Hermiston has made several changes to its operations in response to the COVID-19 outbreak.
SALEM — Gov. Kate Brown on Monday directed most Oregonians to stay home except for getting groceries, going to work or handling important activities that cannot wait.
Domestic Violence Services encourages people in crisis due to domestic and sexual violence to continue to call its 24-hour crisis line (800-833-1161) during the current situation with COVID-19.
First it was hand sanitizer and toilet paper. Now, basic medical supplies are in short supply, including face masks, as medical workers try to protect themselves while treating patients who ma…
HERMISTON — The six-week school closure announced by Gov. Kate Brown last week has suddenly given some parents a lot more time with their children than they were expecting.
Portland moved closer to ordering most residents to stay home, so as to slow the spread of coronavirus, but Gov. Kate Brown is holding off on a statewide executive order.
HERMISTON — The city of Hermiston is adjusting access to its buildings and its next city council meeting in order to better follow social distancing guidelines set forth by the Centers for Dis…
MISSION — The Confederated Tribes of the Umatilla Reservation announced Friday afternoon that it would be shutting down Kayak Public Transit, according to a press release.
UMATILLA COUNTY — Local law enforcement will still respond to every call for service and make arrests when necessary during the coronavirus pandemic, but Eastern Oregon police departments are …
UMATILLA COUNTY — Pilot Rock market Family Foods received a shipment of toilet paper on Monday. Within minutes, it was already sold out.
HERMISTON — The autopsy of the Hermiston man found dead northeast of the city on Wednesday revealed he was killed by a gunshot wound, the Umatilla County Sheriff's Office said in a press relea…
MORROW COUNTY — Though there have been no positive cases of coronavirus in Morrow County yet, the county's board of commissioners figured it'd be better to be safe than sorry and declared a st…
PENDLETON — A majority of court proceedings have been halted in Umatilla and Morrow counties beginning Thursday as Oregon's judicial system responds to the coronavirus pandemic.
HERMISTON — The Umatilla County Sheriff's Office has opened a homicide investigation after a Hermiston man was found deceased near Alpine Drive northeast of Hermiston.
UMATILLA COUNTY — The COVID-19 outbreak has hurt businesses and put some Oregonians in a precarious financial situation, but some relief is on the way.
PENDLETON — Oregon residents have the opportunity to give input on major transportation projects coming their way, as the Oregon Department of Transportation solicits comments on its 2021-24 S…
The city of Hermiston announced new closures to encourage social distancing on Tuesday afternoon.
In light of recommendations from the Centers for Disease Control about social distancing during the COVID-19 outbreak, the Hermiston Public Library announced it is closed until further notice.…
The Hermiston Downtown District is seeking entries for its 2020 Art Festival.
Due to the current school closure, the Hermiston Education Foundation's scholarship deadline is on hold.
Students pursuing higher education in the medical field are invited to apply for $2,000 scholarships for the 2020-21 school year.
All branches of the Oregon Trail Library District — Boardman, Heppner and Irrigon — are closed until further notice.
The Hermiston School Board voted Tuesday afternoon to count the current shutdown as its spring break, but by 5 p.m the point was already moot.
Highland Hills Elementary School will still be run by "Principal Bacon" next year, but it will be a new face at the helm.
HERMISTON — As a precautionary measure due to coronavirus, the Thursday, March 19 Tri-Cities Cancer Center presentation at Sun Terrace Hermiston has been canceled.
Numerous coaches and 32 athletes representing Hermiston/Pendleton Special Olympics Local Program #510 competed in the first Special Olympics Regional Basketball Event to take place this year. …
Last call for Hermiston bars and restaurants took on new meaning Monday night, as they prepared to close for the next four weeks.
PENDLETON — Despite a statewide closure in K-12 schools due to coronavirus, Blue Mountain Community College will stay open, albeit with some added precautions.
PENDLETON — Veteran newspaper leader Karrine Brogoitti has been named regional sales director for EO Media Group's east side operations, which includes six print newspapers and associated websites.
PENDLETON — Pastor Marc Mullins looked uncharacteristically somber.
UMATILLA COUNTY — Eastern Oregon voters could have a lot of choices this May. It just depends where they live.
Gov. Kate Brown's announcement late Thursday evening that K-12 schools statewide must close from March 16-31 forced tough decisions on school districts about what their calendar will look like…
UMATILLA COUNTY — While the coronavirus pandemic is now bringing sanitation and social distancing to the forefront in the minds of Oregonians, Eastern Oregon Correctional Institute says it's c…
Shortly after 10 p.m. on Thursday night, Gov. Kate Brown sent out a news release announcing all Oregon K-12 schools would be closed starting Monday until March 31.
After Gov. Kate Brown announced a month-long ban on gatherings of more than 250 people Thursday morning, it didn't take long for the cancelations and closures to roll in.