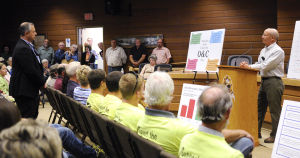 COOS BAY -- U.S. Rep. Peter DeFazio told a Coos Bay crowd there's nothing he can do to speed up or halt the Jordan Cove Energy Project's approval process, no matter how much the idea of liquefied natural gas exports bothers him.
DeFazio, D-Ore., spoke to a packed Coos Bay City Council chambers Wednesday night on his town hall tour of the South Coast this week.
Anti-LNG advocates tried to present research showing why Jordan Cove should not locate in the Bay Area, but DeFazio wasn't having it.
"Submit that information to the people who are going to make the decision," he said. "I'm not making the decision. I have no say on the decision beyond what any individual in the U.S. has."
The LNG export terminal's approval process is "dictated by federal law," he reminded the crowd, giving the Federal Energy Regulatory Commission the final say. FERC is expected to release a draft environmental impact statement for Jordan Cove any day, a document the Bay Area has waited years to see.
"People think that means something bad, but I think it means they're taking their time," DeFazio said of FERC's lengthy process. "This is a unique proposal. While others are already in refinery areas, this is unique in that aspect. It's called a greenfield."
The majority of the U.S. House -- mostly Republicans -- doesn't feel the same way.
They approved the Domestic Prosperity and Global Freedom Act (H.R. 6) 266-150 in June. It's a bill that would fast-track the U.S. Department of Energy's LNG exports approval process.
That bill's passage doesn't mean much to Jordan Cove, which already received approval to export LNG to both Free Trade Agreement and non-FTA countries. Even if it hadn't, the facility has to be built from the ground up, which will take about four years.
From Oregon, DeFazio, along with Democratic Reps. Suzanne Bonamici and Earl Blumenaeur, voted against the bill. Democratic Rep. Kurt Schrader and GOP Rep. Greg Walden were for it. The bill passed the House with overwhelming Republican support, while Democrats shied away from U.S. Rep. Cory Gardner's efforts. Now, it moves to the U.S. Senate.
DeFazio voted against the Energy Policy Act of 2005, saying Wednesday night that it gave faceless federal agencies overwhelming authority over municipalities, which "set the stage for where we are today."
He's never hesitated to express his disdain for eminent domain and how it relates to the Pacific Connector Gas Pipeline, which he echoed in his Reedsport town hall Tuesday morning.
"I've had some concerns about the pipeline and the impact on property owners," he said. "I'm not a big fan of people preempting someone's private property. We're still working on that particular issue."
He also said he wants to see regulations on hydraulic fracturing, dubbed "fracking."
"I am concerned about the aggregate potential impact of LNG exports," he said. "There is a tipping point. In the short-term, we can export a fair amount of LNG. In the long-term, if we export too much, we'll have the same situation we're having with oil."
Umpqua Post editor Steve Lindsley contributed to this report.