Featuring three funnymen, tickets are still available for the Melonville Comedy Festival.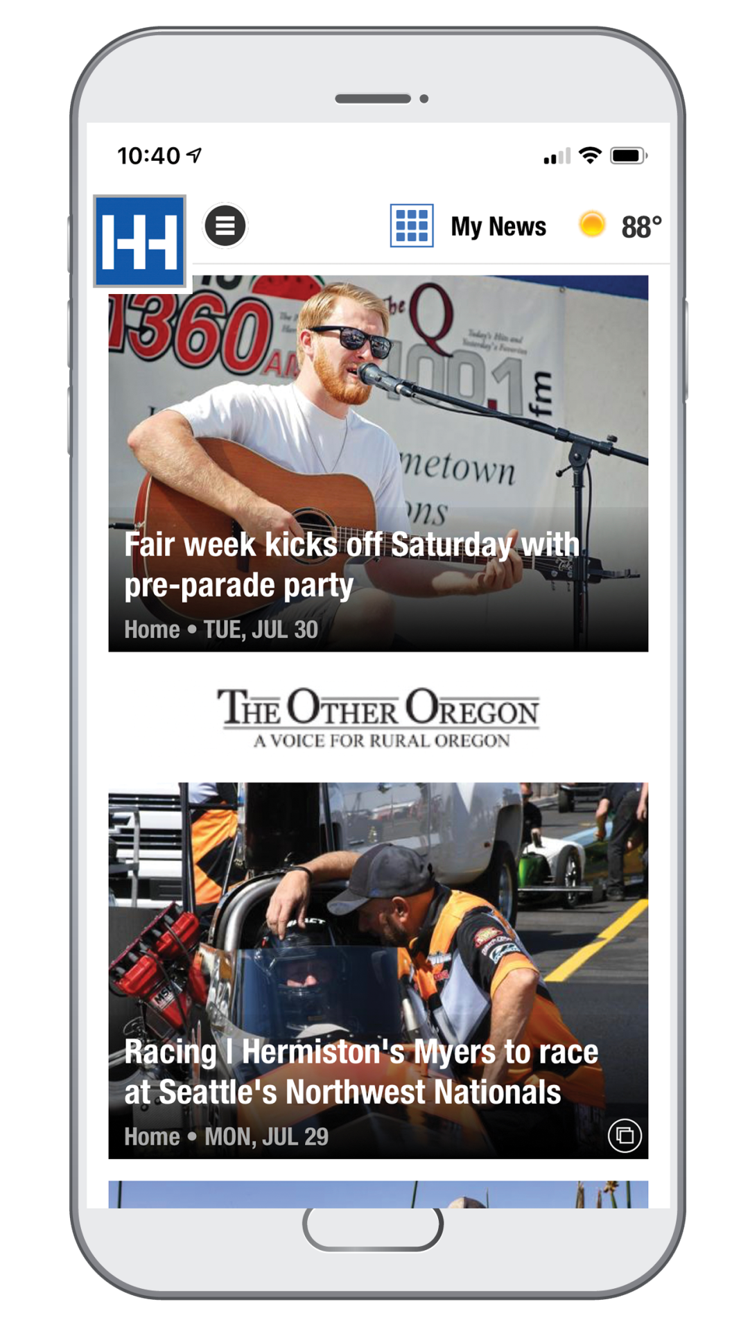 Get breaking news!
UMATILLA COUNTY — Both lanes of Interstate 84 from Pendleton to Ontario opened by 7:30 a.m. Thursday morning, while Highway 204 and Highway 245 remain closed to all but local traffic, accordin…
HERMISTON — Mayor David Drotzmann has filed to run for reelection as Hermiston mayor.
The city of Hermiston is hosting an open house next week to discuss a new wayfinding project.
Hermiston's food truck pod experiment was such a success in its first year that the city is looking to expand it.
HERMISTON — A car full of Hermiston residents was in a single-vehicle rollover crash north of Dayton, Washington, on Monday at about 5 p.m.
HERMISTON — Hermiston City Hall could remain closed for much longer than previously estimated if the city council decides to replace the building rather than repair it.
The annual meeting of the Oregon Water Coalition (OWC) and Northeast Oregon Water Association (NOWA) is planned for Tuesday, Jan. 21 beginning at 8:15 a.m. at the Hermiston Agricultural Resear…
The Hermiston School Board hit the ground running Monday evening in commemorating 10 educators of the year, announcing a budget committee vacancy and taking a closer look at a December's drop …
Tickets are still available for the Melonville Comedy Festival.
People are invited to roll the dice during a bunco fundraiser to assist members of the Hermiston High School marching band for a spring trip to Los Angeles.
The lights are up a little and the volume is down for an upcoming sensory-friendly screening of "Dolittle."
Girl Scout Troop 50117 is raising money to participate in service trips across the United States in 2020 and 2021.
A tribute band that plays the music of Bread, an American soft rock group from the 1970s, returns to Hermiston.
Threemile Canyon Farms was recently recognized with the Cooperator of the Year Award from the Oregon State University Extension Service.
When and why did you move to Hermiston?
MORROW COUNTY — A Hermiston man died in a single-vehicle crash on Highway 207 in Morrow County Friday night, according to a press release from Oregon State Police.
HERMISTON — City Councilor Lori Davis will represent Hermiston at a national level after being selected to serve on the National League of Cities Small Cities Council.
HERMISTON — A longtime provider of carnival rides, concessions and midway games for the Umatilla County Fair closed its doors at the beginning of January.
HERMISTON — Sanitary Disposal, Inc. will request the Hermiston City Council's permission to increase garbage rates inside city limits during Monday's council meeting.
The Umatilla County Fair is excited to announce that four young ladies have been selected to serve on the 2020 fair court.
HERMISTON — The Oregon Department of Land Conservation and Development will visit Hermiston in February to discuss Oregon housing issues with the public.
HERMISTON — A planning commission meeting about a parking variance for the Eastern Oregon Trade and Event Center was briefly sidetracked over a discussion about the possible sale of the Hermis…
PENDLETON — The 6th Judicial District Treatment Court celebrated its first two graduates on Friday at the Blue Mountain Community College Bob Clapp Theater with approximately 100 guests and le…
HERMISTON — No one has filed yet to run for mayor of Hermiston in 2020.
PENDLETON — A staff shortage at the Umatilla County District Attorney's office means District Attorney Dan Primus is taking up more cases in the courtroom himself.
UMATILLA COUNTY — A Hermiston man indicted in November after police arrested him for kidnapping will spend more than four years in prison, according to court documents.
Hermiston residents looking for a place to dispose of their Christmas tree can drop it off at Butte Park.
A Hermiston-based nonprofit organization is driving into the new year with a brand new 8-passenger van — courtesy of Altrusa International of Hermiston.
People are invited to enjoy a spaghetti dinner and learn more about the Irrigon Multicultural Arts Center project.
Encouragement and support is available after the death of a spouse, child, family member or friend through GriefShare.
The annual Community Bank Holiday Charity Drive provided support to Made to Thrive, a Hermiston-based nonprofit organization.
HERMISTON — For millions of Americans, December is a perfect storm for weight gain.
HERMISTON — A Hermiston teenager was a star student, a lover of debates and one of Lana Del Ray's biggest fans.
The Little Theatre of Walla Walla invites people to audition for parts in its upcoming production of "Godspell."
People can learn more about Cason's Place during a pair of upcoming events.
Parents have a chance to help their little ones expend some energy during the winter months at a weekly event offered through Hermiston Parks & Recreation.
HERMISTON — Hermiston residents looking for a place to dispose of their Christmas tree can drop them off at Butte Park.
HERMISTON — Hermiston Police Department called out the Oregon State Police bomb squad early Monday morning after an officer located a grenade inside a vehicle during a traffic stop.
UMATILLA COUNTY — The Umatilla County Sheriff's Office has taken the lead role in investigating the crash that took the life of a Hermiston teenager on New Year's Day.
HERMISTON— Members of the community are mourning the loss of Hermiston High School student Brett Jewett, 16.
PENDLETON — Nadine McCrindle hasn't been with the Red Cross for very long, but she's already facing a challenge.
PENDLETON — The Umatilla County Board of Commissioners authorized adding another deputy position to the sheriff's office Thursday morning, giving the county its 18th patrol deputy on staff.
In celebration of a successful fall sports season, Hermiston/Pendleton Special Olympics Local Program #510 recently gathered for an awards banquet.
The first morning of the decade was a quiet one across the streets of Hermiston, but the hustle and bustle of Riverfront Park before the annual Resolution Run was a welcome exception for the m…
HERMISTON — Despite spending most of her life in the region, Kathryn Kennington, 54, hadn't done much more than pass through Pendleton or Hermiston.
UMATILLA COUNTY — The new year is a chance for a fresh start. But in Umatilla and Morrow counties, local leaders aren't as focused on wiping the slate clean as they are building off the moment…
HERMISTON — A local organization is offering grants for people who would otherwise struggle to pay the fee to renew their Deferred Action for Childhood Arrivals (DACA) status.
UMATILLA COUNTY — While the holidays are a time for many to get a break from work and enjoy quality time with their family, not everybody gets that luxury.
HERMISTON— Kris Neville was out hunting ducks near Irrigon when his wife, Danielle Davies-Neville, went into labor on Tuesday morning.
SAIF, Oregon's not-for-profit workers' compensation insurance company, is offering a free, half-day seminar on agricultural safety and health in Hermiston on Jan. 14 in English and Jan. 15 in …