An evening featuring live music, dinner, and live and silent auctions will serve as a fundraiser for Hermiston Campus Life.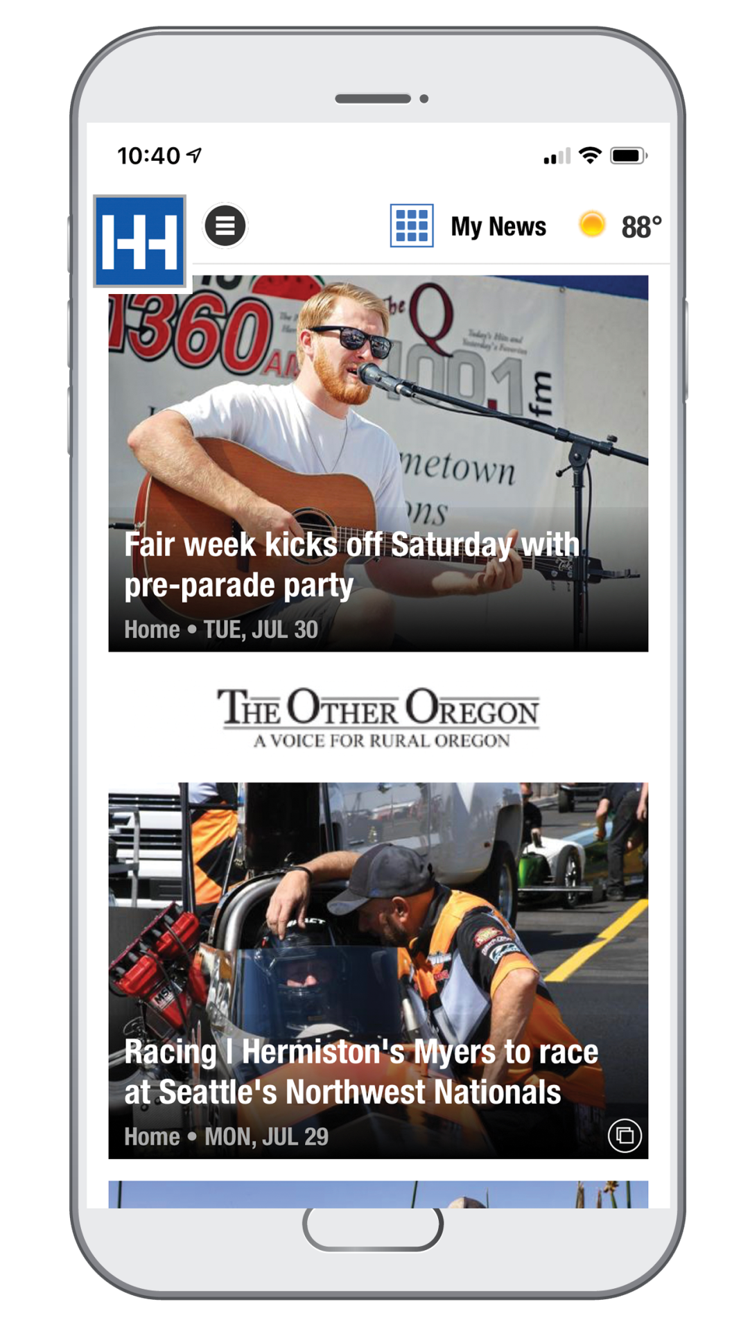 Get breaking news!
The Umatilla County Assessment & Taxation Office reminds everyone doing business in the county that the deadline for returning personal property and real property tax returns is coming up.
By the time she was just 10 years old, Hermiston School District's 2020 Educator of the Year Tammy Fisher knew she wanted to be a teacher.
UMATILLA COUNTY — When Sheena Tarvin got a ticket for not wearing her seat belt in 1998, she had no idea the profound consequences it would have on her life.
Victor Vasquez was born in Texas. He's been around the world: to Guam, to Turkey and plenty of places in between for work. But as the 2020 Hermiston High School Distinguished Alumnus, he'll al…
Actors and singers from throughout the region will take the stage for a College Community Theatre production of "Sound of Music."
Students are encouraged to apply for 2020-21 Office of Student Access and Completion scholarships.
The inspiring story about a 1987 state championship cross-country team from a southern California town is featured during the February Movie Event in Boardman.
First grade teacher, Desert View Elementary's Educator of the Year
National Guard soldiers from Pendleton's 1st Battalion, 168th Aviation of the Oregon Army National Guard were on a standard training mission when the news first broke of rising floodwaters alo…
HERMISTON — New statistics detailing annual crime and patrol numbers in 2019 show that from a policing standpoint, things are looking up for the Hermiston Police Department.
HERMISTON — Pac/West Communications is welcoming a new face in its Hermiston office.
HERMISTON — Good Shepherd Health Care System has added a new oncology and hematology specialist to its staff.
MORROW COUNTY — Burning hay and damaged asphalt from a semi-truck fire Thursday afternoon shut down a stretch of Highway 207 for eight hours, according to the Oregon Department of Transportation.
HERMISTON — A proposed $9 million price tag on building a new city hall has sparked a lot of questions in Hermiston, and the city could provide answers during two informational meetings Tuesday.
The Inland Northwest Musicians were among the 101 recipients who were awarded Small Operating Grants through the Oregon Arts Commission. Each of the organizations received $1,494.
Musicians of all levels are invited to bring their instruments, talent, friends and family for an upcoming Open Mic Night in Pendleton.
A grand opening event is planned at Fairway Independent Mortgage Corporation.
A Mardi Gras theme offers festive fun as Knights of Columbus Council #3999 raises money to serve the community.
Several health screenings, activities and presentations will focus on heart health during an upcoming event at Good Shepherd Medical Center.
The Umatilla County Assessment & Taxation Office reminds everyone doing business in the county that the deadline for returning personal property and real property tax returns is coming up.
HERMISTON — Amid tears, cheers and standing ovations, Hermiston honored some of its most giving citizens at the 50th annual Distinguished Citizens Awards.
UMATILLA — An accident on Umatilla River Road caused temporary road closure and possible injuries on Wednesday afternoon, according to the Umatilla Police Department. 
HERMISTON — Hermiston and Umatilla netted some tourism-promoting cash this month as the Eastern Oregon Visitors Association announced its first-ever regional grants program.
HERMISTON — Months after district voters approved the $82.7 million school bond, the Hermiston School District is moving forward on bringing the bond projects to fruition.
HERMISTON — The Hermiston Chamber of Commerce is hoping to assess damages to businesses in Stanfield, Echo and Hermiston in the aftermath of last week's flooding.
While anonymous comments online offering the chance to "make money from home" are often scams, many Eastern Oregon residents have found their own ways to make extra cash from their home.
The public is invited to the installation of new officers and members during a ceremony at Hermiston Elks Lodge #1845. The event is Tuesday, Feb. 18 at 7 p.m. at 480 E. Main St.
Hermiston School District has hired BBT Architects of Bend to be its architectural firm for projects paid for by the $82.7 million bond passed by voters in November.
UMATILLA — Eleven students from Umatilla High School will spend their spring break this year on an educational tour of England and Paris.
After an unprecedented flood swept through Umatilla County on Friday, the flood waters receded almost as quickly as they came.
Rather than merely rolling the dice, people are encouraged to learn safe gambling tips and recognize signs that may indicate a problem.
Sandstone Middle School choir students will get a memorable experience next fall as they travel to New York City to perform at Carnegie Hall.
When Umatilla County residents woke up last Thursday morning, they had no idea they were about to experience the area's worst flood in living memory.
HERMISTON — A new city hall for Hermiston would come with an approximately $9 million price tag if the city council approve the idea this year, City Manager Byron Smith told the council on Mon…
Volunteers interested in working with aging veterans to help them access benefits and resources are needed throughout Oregon.
Teacher, West Park Elementary School
Artists from throughout the region who are 18 and under are encouraged to enter an art show and competition that includes prizes and awards in several age groups.
A sweet evening of music will feature the sounds of Brass Fire on Valentine's Day.
A pair of familiar faces will serve as guest speakers this weekend at the Hermiston Christian Center.
An Italian-themed dinner event is planned as a celebration of love — both for each other and for God — at the Hermiston First Christian Church.
An evening of family fun is available on Valentine's Day at the Hermiston Community Center.
UMATILLA COUNTY — While much of the flood water has left Echo, Stanfield, Hermiston and Umatilla, the damage it left behind will take longer to clear away.
PENDLETON — One lane of westbound Interstate 84 reopened Sunday evening east of Interstate 82, according to a press release from Oregon Department of Transportation.
A Valentine's spaghetti dinner and auction will help boost fundraising efforts for a Hermiston High School band trip to Los Angeles.
The Port of Morrow, in partnership with regional industries, has launched the new Columbia Works Summer Internship Program.
People are encouraged to start collecting packages of diapers in anticipation of the Diaper Dash.
The Hermiston Public Library is hoping to win a visit from beloved children's author Jan Brett.
UMATILLA COUNTY — Floods that devastated the region at the end of last week and through the weekend are all but gone as of Monday morning.
PENDLETON — A Umatilla County woman reported missing earlier this weekend was found dead Sunday, according to a press release from the Umatilla County Sheriff's Office.
UMATILLA COUNTY — Floodwaters throughout Umatilla County continue to recede and more people are returning to their homes as of Sunday morning. 
ECHO — Volunteers spent Saturday providing food and shelter to community members displaced by flood waters from the Umatilla River. 
UMATILLA COUNTY — The American Red Cross is in need of volunteers and will be offering trainings this weekend as they prepare to move into the recovery stage of the floods.